October MLS outlook: Introducing San Diego | One Portal and Tips for your business!

October Edition: Introducing San Diego | One Portal and Tips for your business!
Hello Members!
I hope your fall is off to a beautiful start! We have some exciting things happening at San Diego MLS with the launch of our San Diego | One portal and we have some many great things coming. In this edition of our monthly Outlook newsletter, we give you an overview of the new portal, provide our latest market stats and give you Paragon tips to easily customize your interface with your headshot and logo and a "heads up" regarding the updates coming soon. Our goal as your premier local MLS provider, is to continually add tools and programs to help you with your business. We hope you enjoy these things as much as we do!
We Just Made Your REALTOR® Business And Life Easier! San Diego | One
Introducing the new San Diego | One Member Portal. An advanced, secure solution to help you simply and easily manage your real estate business.
The Greater San Diego Association of REALTORS® and San Diego MLS know how important your time is and our goal is to provide you with tools and products to make your business easier to run, wherever you may be. We designed our new portal with you in mind, providing you with a single location, with one login, to access the MLS, your most important tools, schedule classes and track events, manage your account, and much more!
SAN DIEGO | ONE New Member Portal Features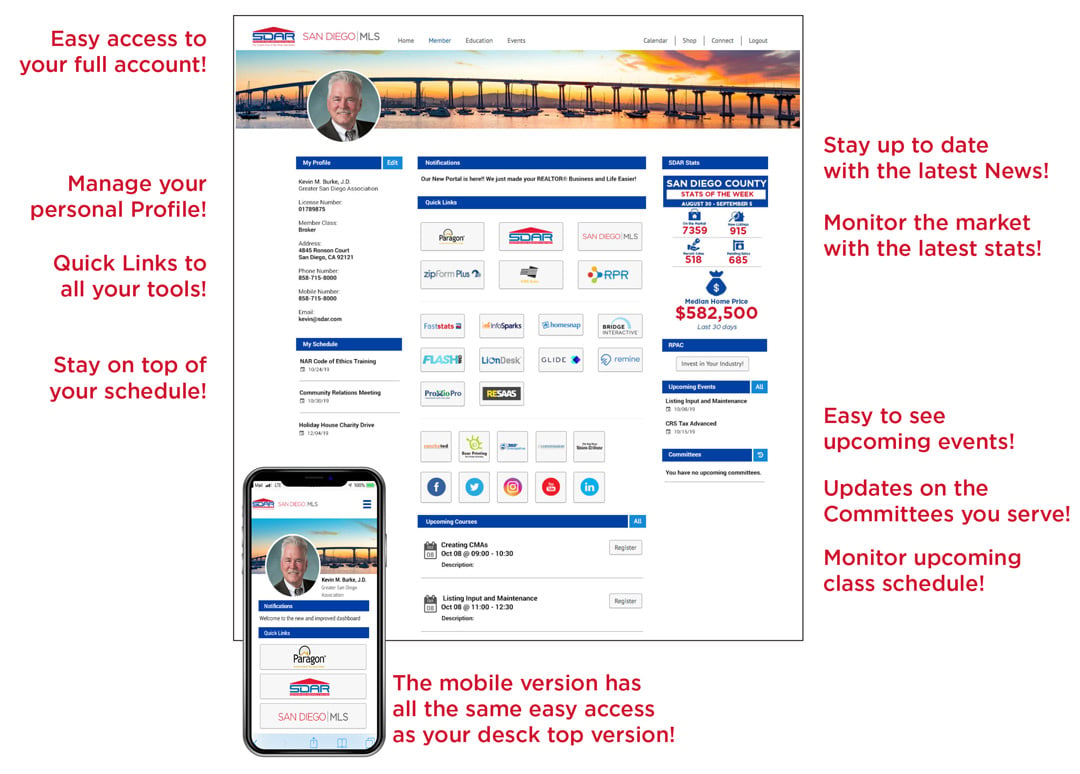 Easy-to-use, modern, and responsive design for all devices

All of your business tools and needs are just one click away

Daily market statistics snapshot

Advanced personal profile settings

One-stop event registration & history

Simple education registration & personal course history

Member, office, and affiliate search function

Simple access for RPAC contributions

Easy payment system with AutoPay function
...and much more!
Watch the video below to check out the features that San Diego | One has to offer!
To access the new member portal, login to your dashboard and simply click on My SDAR Account in member tools.
It's All About the Numbers!
Stay informed about home sales, listing information and market activity, and subscribe to our statistics list today! You choose the areas and data you want to receive, how you want to receive it, and we take care of the rest.
Paragon Tips and Tricks: Add Your Headshot and Logo to Personalize Paragon
Your image is important for your business. As your local, premier MLS provider, our team at SDMLS wants to make sure you use all of the tools available to put your best foot forward.
You can easily load your images into Paragon and position yourself as a leader with personalized, branded reports that include your headshot and logo, and your email signature. You can do this today by checking your preferences and uploading your images.
Paragon's Releasing a New User Menu
There's an exciting changes coming in 5.73 that streamlines the main user-related actions and reduces visual clutter!
New User Menu
The Paragon upgrade includes a new user menu and design that is consistent with standard web design principles and so you might find yourself intuitively familiar with how it works.
This update brings all the main user actions into a single drop-down in the top right-hand corner of Paragon along with displaying the logged in user along with their agent photo. For those of you who routinely use Assume Identity, this change makes it very clear which identity is being used.
Batch Download Associated Documents

If you've got multiple documents and you need to download them all at once. Now you can use batch download to save time! On the Associated Documents, you can now select multiple documents, then select download from the export options. This will zip up the selected files for download. Please note, only files marked Public will be able to be downloaded.
Additional actions in the menu include (if applicable):
Agent Ability to select/change their Paragon photo

Assume Identity

MLS Switcher

Board Switcher

Displays the User's Organization name

Displays the Logoff Button
Look for these updates coming early October to get the most out of the Paragon tools!
Stay informed and follow us:





Contact Us
4849 Ronson Court
Suite 216 San Diego, CA 92111
8:00 a.m.-5:00 p.m.
Office Staff Hours
Monday - Thursday
8:00 a.m. - 8:00 p.m.
Friday
9:00 a.m. - 8:00 p.m.
Saturday & Sunday
9:00 a.m. - 5:00 p.m.
Reciprocal Service Hours
Monday - Friday, 8:30 a.m – 4:30 p.m. (Closed 12:30 – 1:30 p.m.)